I have been back from my little adventure a few days now. The dust is beginning to settle under my feet but perhaps not around my spirit…..
As those who may have read my previous blog, this 4 day solo hike was a little "last minute" in its planning, after a small group "Fastpacking" hike I had been going to do in the same area, came a little unravelled five days prior.
Group dynamic can be make or break in tough undertakings and if it's a bit off before the start, it is highly likely to crumble entirely under the pressure of the undertaking.
I've reached a stage in life where I listen to my instinct in reverence and respect to its greater wisdom. No personal right or wrong in the parties involved.  Human nature. Stress. Personalities and expectations? It just is what it is.  Accept, adjust, move on.
The abrupt halt to that particular objective saw me flounder for a couple of days as I struggled to pull together a suitable "experience" of my own at short notice.
After putting the call out for suggestions to trusted friends, a terrific alternative route was offered and I knew it was exactly what I was looking for.  The right mix of hard and beautiful. 4 days on a 100km loop taking in some of the most iconic peaks in the Alpine and Sterling National Parks.
I volunteered at a bike race for a couple of days first and in the afternoons I checked out the start and finish of my anticipated route. This enabled me to make a more informed decision based on my own observations and feelings of what I'd been warned was a "tricky section".
It was indeed and reality bit…. a lot can happen out there and things can turn bad fast for the foolhardy and poorly prepared.   I decided to hike instead of "Fastpack", so I could take more gear, more food and critically, carry more water when I went up higher, and as a result, I would be safer and enjoy the whole experience more, secure in that knowledge.
The most important aspect of any foray into remote and/or rugged places, is to be mentally and physically prepared for what can be anticipated but also for what MAY eventuate. Especially when solo.
A SPOT device (like a location beacon), a good first aid kit and the ability to use it correctly and the capacity to carry more water were important safety considerations for me. No regrets on any of those.
The hike was everything I could have asked for and far more. I had not felt so connected to the essence of who I am and what I am capable of since returning from my 11 months of backpacking the world 12 months ago.
Life moves in intriguing ways….I see this was exactly what I needed, at just the right time.
I'm deeply grateful for those who believed in my capacity to do it, belief in myself and my instinct and intuition about what is right and best for me.
This was not just another hike to me. Even as I moved through that glorious landscape I recognised it was yet another marker in my journey of transformation…another turning point in the life I have been slowly and steadily (well, not always so steadily) moving towards…
Changing, ever changing….adaption is all. Seizing of opportunity. Open mind and heart. As one door shuts, the next begins to open….
Each time we test ourselves, espcially when we have only ourselves to rely on, we learn something new about out ourselves, our lives and how we live and how we want to live….
When we put more faith in our own instinct, respect our authentic selves and stop seeking the approval of those who actually care little for us…. we grow.
Hiking and similar solo endeavours are based solely in the now. They are an immediate reality. There's no pretence and no nonsense. There is no where to hide and no disguise.
What we discover by being outside, alone, is captured forever inside. The value is beyond measure.
We travel in harmony with the day's evolution. Rising as the first welt of light reveals itself on the horizon and slip into our tented cocoon as whisper winged creatures begin their nocturnal foraging.
We are unconsciously gathering information about many things….and later we will draw on it, and if we are lucky, it will help us expand our own existence and our experience of the broader world……changing us in a myriad ways.
An unexpected and invaluable bonus worth every anxious moment of lost trail and muscle ache.
Nothing truly worthwhile is ever easy. Certainly not the stuff that shapes us or that dreams are made of.
Foot Notes:
I will add the particulars of the hike for those interested in such details….
The nuts and bolts if you will.
For without those nuts and bolts the wheels fall off such undertakings….
Multi day hiking in wild places indeed lends itself to a kind of asceticism and higher purpose but underpinning those loftier ideals is the necessity for a pragmatism that will ensure the philosophical and emotional treasures you gain on the trail will return home with you. Safely.
DAY 1:
Monday 9th March 0715 from Mt Buller.
Down the gnarly and oft overgrown 4 Mile Spur, across the river to Gardiners Hut.
Along the Howqua (10-12 river crossings)….wet feet, very welcome in the heat, and took on 6L of water from river at 8 Mile camp area.
Up 8 Mile Spur (long….and steep in places) along the undulating and often steep Rocky Ridge with good views back to Mt Buller and then after a lot of searching, finding the right trail down to Refrigerator Gap with the help of close attention to map contours and a supportive phone conversation with a friend who had also been concerned in this section.
Up The Bluff Walking Track (steep, rooted and rocky, some climbing) in a gathering dusk to the summit and along the Bluff to camp overnight about 3km shy of Bluff hut. A stunning sunset in a beautiful place. Tired and happy.  12 hours total. About 28-30km.
DAY 2:
0650 start from the impromptu campsite on the bluff thru to Bluff Hut (water in tank there…sigh says don't drink even if boiled…I Aqua-tabbed it..all good)
Walked on good 4×4 trail thru beautiful mountain ash sections…sublimely peaceful and cool morning past Lovicks Hut (no water) and past Picture Point etc to the trail intersection on to the AAWT (Australian Alps Walking Track)
Easy to miss…I didn't, as I'd been warned. Easy walking to this point and further on… Lovely trail. Easy to follow.
Up and over Mt Magdala (can go around the side of it if you are feeling lazy…but what a waste that would be!) it's well worth the climb!!!
Had a stunning encounter with a wedge tail eagle on summit….I whistled him down in fun and he circled, returned, watched me and dropped directly over the top of me like an elevator….to a height of just 5-7m. What an incredible joy and privilege! Sheer majesty.
Over the back of Magdala, past Devils Window… Beautiful.
Track splits…there's a hut that's meant to be lovely down one but I wanted to push on to Mt Speculation.
Along the iconic Cross Cut Saw and Mt Buggery and Horrible Pass…..all of which were tough but unforgettable highlights of my hike.
A couple of very nice camp spots on and far side of Mt Buggery.
Very tempted by one but wanted to keep going as it was only 1630 and I had faith that Mt Spec looked good ahead…. Trust the instinct. Keep to the schedule.
Some wonderful rock climbing/scrambling enroute to Mt Speculation. I love climbing with a pack, using my strength and agility.
Found the campsite of my dreams on Spec..about 500m below summit. Stayed there from 6pm. Clear view and direct line of sight to Mt Buller in far distance meant Internet! Bizarre.
Glorious sun and sunset… Mild night, tent fly up both sides all night….stars…moon up late..
An owl on a branch of tree 3-4m away during the night for half an hour looking at me….who can be lonely in such company….
DAY 3:
I left at 0655…. Glorious sunrise. Perfect peace and cool, clear morning. Saw a big buck coming down off Spec near the intersection that leads off the AAWT and takes me down to Spec Rd.
Only 1km or so to the road and a running water source just 200m or so away on the first bend in the road.
Easy 8ish km walk to Muesli Track. Someone has done a lot of work on clearing a trail down (and up) there… Still got off track a handful of times when it wasn't clear. Very steep descent towards end. Take care. Some down climbing.
Met a new trail sister, Sally, down near the bottom. She was heading to where I'd come from where I'd come from and vice versa. Kindred spirit. Turns out we have close mutual friends.
Rest and lunch by King River (and a wash) at the camp area for one hour. Glorious.
Cross river and up an unnamed and disused 4×4 track….lots of blackberries to eat in March… #purplefingers 🙂
On top is a definite corner named on map as Petes Corner..follow contours and map closely to find the start of a tough but worthwhile shortcut off the road.
Wear long pants, gloves and gaiters which I had on anyway…. BADLY overgrown with blackberry but deliciously so 😉 #veganparadise
Took my time, ate a lot, did some terrific climbing over and walking along the length of huge fallen trees. More convos with beautiful birds…
Came out on Circuit Road with nary a scratch worth mentioning (unlike poor Sal who had shorter shorts on and "broke trail" coming down!) a bit of a walk along the road to the marked road to Craig's Hut… Quite a few 4×4 coming out unfortunately but such is life when staying in an area where people don't have to work hard to get to.
Camped there….nice view but with a kind of touristy feel.
Beautiful star show that night tho due to a late rising moon. Splendid!
DAY 4:
I was up before 5 after a good nights sleep and away by 0540 on easy but ascending 4×4 road to summit past sleepy teenagers camping with their school (CGGS) in various places (236 in all)
Made summit 10m before sunrise…couldn't have estimated it more perfectly 🙂 no one up there, none of the sleepy teens or their teachers.
Stayed a glorious 30mins and scampered down to get ahead (just) of the mob. They turned off anyway.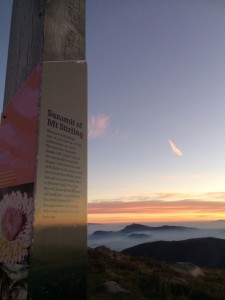 Lovely easy walk down past Howqua Hut then across Circuit Rd and up the 4×4 trail opposite, had a chat to a nice englishman day walker and 2-3km back on to circuit rd, cross over and back up past the water treatment facility and onto Stirling Road into Mt Buller Mountain Village and back at the car by 0930 for a chat with mountain bike champion and friend Jess Douglas at The Corner Store and a few bananas given to me by a vegan friendly day walker in the car park 🙂
Very smoky around Buller from controlled burns..very grateful not to have copped any of it out on my hike.
One blister only (had pre-taped feet and not changed sox as the tape was stuck firmly to my feet as well as my socks) "if it ain't broke don't stuff around with it!"
Body felt fabulous aside from a bit of pain on top of my left foot end of day 3 where I have a weird second phalange quickly disappeared once home.
TIPS FROM THE TRAIL:
You will at times cover only 1km per hour. You will have to climb and scramble at times. If you are scared of heights etc…prepare yourself. It's not hard. Just be careful.
You will need plenty of water.
I didn't see any snakes myself but had three pressure bandages close at hand at all times. They are there!
Take poles.
If solo take a SPOT or PLB. If in a group, take a SPOT or PLB 🙂
Take tough gloves (I wore my summer full fingered MTB gloves.) they protect from everything! Insects weren't an issue at all this time of year. Used no repellant. It doesn't mean you shouldn't. I think I was lucky.
I wore 3/4 pants and gaiters and a LS trek shirt 90% of time…recommended.
You will get more phone cover up high than you expect! A good or bad thing..depending on your perspective.
If you get off track, just keep going back to where it was obvious and try another way….it's usually not far til you'll find a faint or clear path. Take your time.
Get up early and get going in summer or early autumn. It gets hot.
FOOD:
I didn't take a stove. Didn't miss it and never went hungry. Made raw vegan bars before I left, had sandwiches that I had that were two days old and awesome.
Had an avocado day 3! Treat!
Had turbo superfood and tailwind (an electrolyte)
Had 350g of my own muesli mix in individual ziplock that I'd soak in liquid Turbo 15min before eating….kept me full for three hours easily.
Dates and nuts/seeds/pretzels. #saltybemyfriend and even vegemite sucked straight out of a tube haaaa true!
ALSO:
Take a Poo Trowel. Don't shit in the woods…..unless it's in a hole and cover it.
Likewise carry out all your rubbish!
Go solo if you are used to training in the bush alone…it's the BEST.
Don't overestimate your abilities but don't underestimate either…..be realistic.
Have Plan B and C.
Enjoy the hell out of the good times and the hard times…..cos those are the ones you'll remember and learn from most of all. You'll be rightfully proud of yourself. 🙂