At The Beet Retreat every life matters, below you'll learn a little more about the beautiful who The Beet Retreat has been able to help: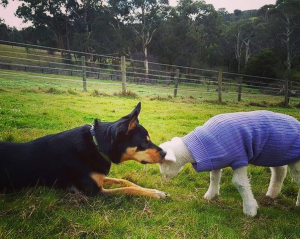 Mac, the Kelpie and a super welcoming co-host, he arrived in September 2016. A former working sheepdog from a property in Deniliquin NSW, he had apparently decided after 3 years herding sheep, that it was not for him and nicking off to go to sleep somewhere didn't bode well for his future!
Fortunately for me, he was surrendered to a local vet who contacted Herd To Homes, a working dog rescue group set up to offer second chances to the many wonderful dogs who frequently end up killed by farmers if they do not work or are otherwise unsuitable for the job they were bred for.
I was still grieving the passing of my beautiful Kaya, the Husky cross who had been in my life for many years, I took one look at that handsome face and knew it was time to bring a canine friend home again. Who said you can't meet your soul mate online?
---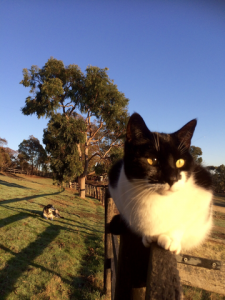 Subi and Smoxy, are rescue cats like all the animals here. In July 2011, I went to Save-a-Dog, a No-Kill Shelter located in Victoria, looking for one female cat to be a companion for my, then, 17-year-old Meggsy after 19-year-old Maddy passed on. Oddly, but wonderfully, I came home with two new friends but hey, that happens right? If not you, then who?
Subi: Subi had been there for over 2 YEARS since she was 5 months old…she had a few health issues but everything cleared up nicely once settled into her very own ho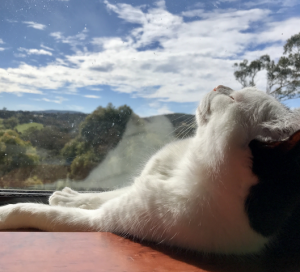 me, with her very own human, for the very first time. She also went from being a very shy girl to a very, very loving and gentle one. Here she is enjoying the first day of Spring in her favourite spot on my desk…
She may have had a shaky start to life but No-Kill shelter gives animals like her a chance that places like the Lost Dogs Home don't. If you're going to donate to shelters, I think No-Kill ones are the ones to support.
Smoxy: We don't need to explain to anyone who has met this irrepressible life force just what an abundance of personality he has!
Vocal and not a little attention seeking, he and Mac vie for guests attention so it's just as well most people who come here are pretty down with that!
Smoxy came to The Beet Retreat along with Subi in July 2011. He'd been at Save-a-Dog for 8 months or so following devastating flooding in the Horsham region.
With his big personality and love of all humans, he would have been rehomed quickly but poor Subi who had always been passed by had fallen for his affectionate ways and kindly staff decided enough was enough and if someone wanted Smoxy (then known as Jock) well they would have to love BOTH of them. And yes, though a pushy male cat wasn't on my radar, I just knew that again it was a matter of "If not you, then who" and home they both came with me.
---
Krazy Kat: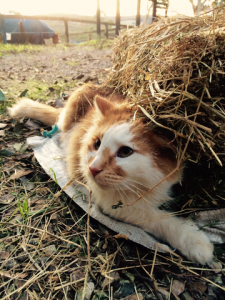 One cold, wet night in 2012, a bedraggled ginger and white face appeared at the glass front door….and never left! The problem was, he was one scary dude!  Purring one second, hissing, chasing and slashing at innocently passing legs the next!
Thankfully , although it took a big plane ride to Queensland 8 years later to do it, he seems to have finally settled into kindness and being happy in an enclosed place (his fancy Cat Enclosure) at least for 13 hours over niht anyway!  Neutering had helped initially but love, patience and kindness did far more. I call him the "Supermodel" because he LOVES a camera pointed his way.
He LOVES guests. He is a great co-host, always accompanying us around the property, no matter the weather. He also loves other species, far more than his own, the bigger the better too it seems. He likes to lay on his back, upside down and purring away, and watch the chickens and wild ducks. He's even been known to climb on sleeping horses backs when we were living at the Smiths Gully property!
He's one big, fluffy cuddle pie with a streak of mischief.
I'm so glad he chose my doorstep to land on.
---
UPDATE NOVEMBER 2019: The sheep were initially rescued and reared as lambs by my friend Robyn who lives in Melbourne and continues to keep them at the Yarra Valley property where the new owners are delighted to continue my former role of "Aunty" 🙂  
There are NO sheep or horses at Noosa property.
The Sheep Family.
All the young sheep here escaped becoming nameless statistics of the 15 million infant lambs who die in the first 48 hours of life in paddocks around Australia every year.
They live here in safety at The Beet Retreat where they are treated as the individuals that they are.
Dot the oldest and a black sheep who was born early 2015. Her story is a little different from the others in that a farmer wanted to be rid of her as a lamb, possibly due to the colour of her dark wool which greatly reduces her worth to the wool industry. Fortunately, she was taken into care by someone who saw her as an individual, not a colour and she formed an unbreakable bond with her rescuer that is still strong today. She is the leader of the flock; strong willed, determined and very intelligent.  I call her the Matriarch and when you meet her you will see it.
Tot was found alone in a paddock on what was probably his first day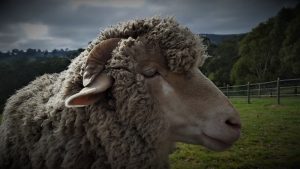 of life in the winter of 2015. It was early evening and no other sheep or people were around. Having likely been rejected by his mother, if he had not been rescued, he would not have made it through the freezing winter night. He weighed only 2kgs (hence his name Tot) and had a week or 2 of poor health from which it wasn't sure if he would recover. He gradually gained weight and strength and now he is 2 years old and such a gentle and sensitive boy.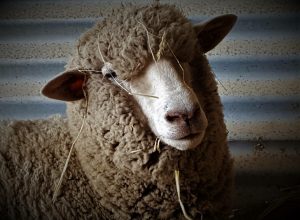 Tommen was rescued in the winter of 2016. He was the victim of a fox attack but fortunately only lost half his tail. Tommen was very shy at first but now is as confident as the other 3. He just needed time to be shown love and to know that he is safe and secure. Don't tell his rescuer or the other sheep, but he's my favourite.  Wait til you see his beautiful eyes…
Bran was also rescued from a paddock in the winter of 2016. He was left on his own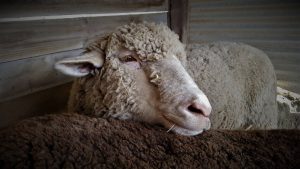 certain to die during the cold night. Bran is the biggest of the 5 and loves his food but he is also so affectionate and gentle considering his size. He is typical of most sheep who, when treated with love and affection, return the same to whoever they form a bond with.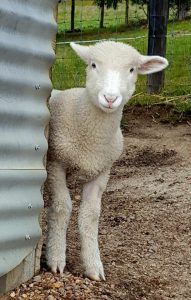 Ben was rescued in the winter of 2017. He was very small so quite likely the 3rd of a triplet. Ewes are selectively bred to have multiple births but it is quite common for them to be unable to care for all their lambs so often one is rejected and left to die in the freezing cold of winter. He had health problems at first and it was not certain he would survive. He is a healthy, happy and very affectionate lamb who loves to have a cuddle and to have his face scratched. He has a very strong bond with his rescuer and with his friend Dawn.
Dawn is Ben's best friend having commenced their life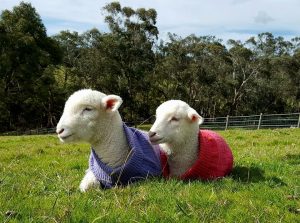 together after Dawn was also rescued in the winter of 2017. She was found early one frosty morning and had possibly been separated from her mum due to the heavy fog in the area. Dawn is also affectionate but is more highly strung than Ben and relies on him for companionship. Dawn loves to have her chest rubbed and to eat the hair of anyone who sits near her.
---
My Queens, the Hens:
UPDATE APRIL 2019: Sadly, as happens with all beings and especially rescue hens, both Happy and Ruby have now passed over the Rainbow Bridge.  Truth is I was heartbroken by the passing of both and am not sure if I want to take in more chickens, or any new animals, at the new property in Noosa.  At this time I am not). Like the sheep and horses, and Roy and Charlie I keep them here on this page because they will always be part of me and part of the back story of The Beet Retreat.  I miss them.)
Happy and Ruby came from two quite different backgrounds but both were in desperate need of help.
I had never had chickens in my life before 2017 despite having this property since 1995 and loving hard boiled eggs!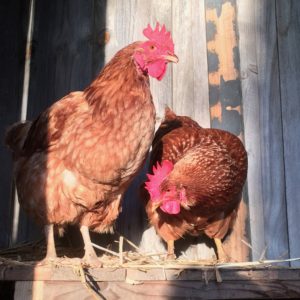 It all seemed too much work and I had no understanding of the shocking life and fate that all chickens experience in the Egg and the Meat industries.
It was after attending a number of Slaughterhouse Vigils in Melbourne that I knew I wanted to care for some chickens who would truly be valued for who they were not what they laid or tasted like roasted or BBQ'd.
There is a lot of foxes in this area and I knew if i were to bring chickens on to this property I would have to place their safety above their absolute freedom. I had a large 18x12m fully enclosed "Chicken Palace" purpose built for their home but also as an orchard! In summer they will have lots of shade and cool breezes and I think I may hang in there a lot too!
Happy came with Suzi who unfortunately died of a heart attack just a week after arriving. Their full history is unclear but they had been rescued from someone who had not cared for them and placed in a Kindergarten programme until they were no longer wanted and again they needed a home. I was contacted and despite the upsetting demise of Suzi, Happy has gone from strength to strength.
Ruby:
Happy was bereft when Suzi died and was calling loudly for her all day, very depressed and unsettled, she wouldn't eat and I was very worried. I called a friend who I knew had a lot of chickens and a rooster who was harassing one unmercifully and Ruby, who was at that time unnamed, came to live.
After a couple of days, they became friends and over the past months, Ruby now has a glorious, healthy comb to match Happy's and all her feathers have grown back.
Both girls fill me with delight and wonder… Chickens are so intelligent and so full of curiosity and life, it confounds and saddens me deeply why I never made the connection to these animals who are as full of personality as my beloved cats and the eggs and roast chicken I so mindlessly ate for all those years.
Thankfully at 50 years of age, I did eventually make that connection and now hope to assist others in doing so too.
Once we truly understand their life force and individuality and see animals as who they really are and the demand for animal products as the root cause of their suffering and tragically ignored lives, we never go back.
And it's so much easier than we ever expected once we make the decision.
---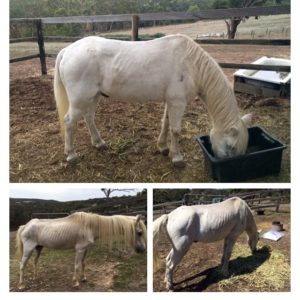 THE HORSES:
UPDATE NOV 2019:  After much deliberation, I decided that it would be needlessly stressful and detrimental for either Kruise or Banjo, due to their particular circumstances, to make the trip north with me.  My dear friend Maureen who lives on 20 acres not far from the Smiths Gully property now cares for them for me and I am able to "co-parent" weekly from here!)
Banjo was born in 1983 and it was pure chance that I found him in late summer 2016, starving and frantic for food in a back street paddock in the nearby suburb of Diamond Creek. I was simply taking a short cut on a whim when I realised I had forgotten something at the shops and drove past his bare dirt, barbed wire paddock…
I took photos and asked around and long story short, I located the owner the next day and politely offered suggestions to improve Banjo's condition, all of which were refused until I mentioned I would be happy to take him off his hands and into my own care.
Sometimes it's all it takes. Be polite no matter how angry you feel inside. ANd offer the ultimate solution. Take responsibility yourself.
So within 24-hours of finding him, Banjo was home and on 5 small feeds a day. After he was wormed, teeth done, feet trimmed and respected for the first time in many years I dare say he started to blossom and what a joy it was to see that weight come back on and his spirit and energy lift day by day.
Within 8 weeks he was fat. Today he is in such good condition that for 5 months of the year he has to be in a bearer paddock and on a diet!
Sometimes fate intervenes, for Banjo he was in the right place, at the right time, with the right car driving by… Long may he still live!!!!
---
Kruise: I met Kruise in Spring 2011, 10 months before I went Vegan but while my view of how we "use" animals was undergoing a metamorphosis.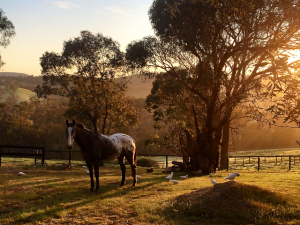 At the time, I was still a member of the Victoria Police Mounted Branch and along with my role as trainer and riding instructor, I was also tasked with recruiting new horses.
I went to look at and ride Kruise as a potential "search horse" (for bush searches) and school horse (to teach recruits on). The truth was, although he was very "safe", he was the most tense and unhappy horse I had ever met, even before I got on him.
But he did not have an ounce of aggression in him, despite the pain, he was in and clearly felt was coming every time humans decided to ride him.
I felt so sorry for him, but more than that I sensed something within him that was unique and a connection to him I couldn't deny. I took him back with me to the city.
He did 4 weeks in town, he became my passion project as day by day he learnt i would not hurt him. He was the most sensitive horse I had ever ridden and to think he'd been subjected to years of very heavy adult beginners riding him, hurting him with their lack of balance and experience.
No wonder he was so shut down and tense.
Long story short, the boss decided that it wasn't the time to be purchasing school or search horses after all, so a month after we parted company, when I was no longer riding because I had injured my back, I rang to see if he was still unsold. He was and so I bought him and put him in the paddock where he never had to be afraid of humans again.
Life moves in mysterious ways and for Kruise, my Vegan journey, although not complete, had taken me far enough to see that just as I have no reason to ride a dog to love them, I also have no need to ride a horse.
I love Kruise for who he is not what I can do with him. Just like Mac.
---
The Steers:  Roy and Charlie:   
(Please note: the boys live at Gunyah Animal Healing Sanctuary at Yarck in Victoria.  If you are moved by their story it would be fabulous if you would consider becoming a supporter of Gunyah by way of even a small monthly, and tax deductible, donation <3 )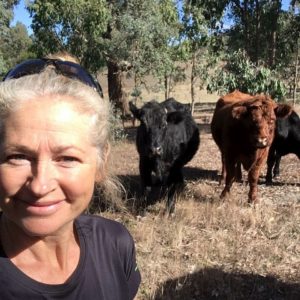 This is a kind of Love Story.
A Girl, a Cow and the obstacle that stood between them living happily ever after…
And of course, like most love stories, there is a happy but poignant ending.
For many years I had walked, ridden and run past a paddock that was owned by a local farmer. In that paddock, he reared cattle to be sent to slaughter. Buying them from market quite young, feeding them and looking after them until he sent them back to be sold for meat about 18 months later…
I often used to stop and give them grass because they were beautiful but I never thought too much about their fate, until I went Vegan.
One summer morning in late 2014, I had stopped as usual and was just chatting away, admiring them in general, when a Black Angus steer (castrated male) pushed his way past the others and looked me straight in the eye and I felt something very different happen between the two of us.
Like he SAW me. Into me. Like he "spoke" to me in silent words.
He had a bald spot in the middle of his forehead, a defining feature because truthfully most Black Angus look kinda the same!
Over the course of the next few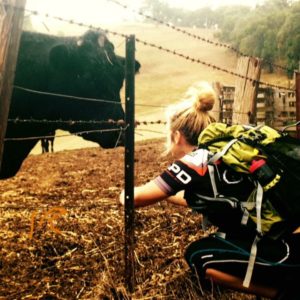 months, I found myself going past his paddock more often, to see this steer who I had come to call Roy. There were others I liked too but Roy would push all of them out the way to come and stand in front of me and sometimes allow me to scratch his big woolly head or neck. Once I even got a photo of him with his chin resting on my arm, with his eyes shut in a few moments of bliss and trust…
I can't help but feel he knew I could make the difference in his life and "played" me I knew I had to do all I could to stop him from being turned into someones soon forgotten steak and burger.
Long story short what followed was a few weeks of stress, anxiety and "detective" work as my offer to buy him for $700 more than market value was rejected by the farmer twice. Insisting that cows were not "pets" and that Roy was better off being killed with his mates because "they won't know what hit them" it was obvious that denial ran deep and I'd have to find another way.
Enter the help of a team of compassionate and determined friends who all wanted to pitch in and help out financially and be my emotional support. I was able to find out where the farmer sent his steers and what day of the week, organise someone to bid for me, someone to give me the necessary department of agriculture number required to buy a cow at market and most importantly secure for him a safe place to live, Gunyah Animal Healing Sanctuary, and also a good friend to help me on the day, and drive him there.
I went to the paddock every Sunday night to check if he was still there. One Sunday he and 7 others weren't. We swung into action.
What happened that day was one of the most nerve-wracking and happy/sad days of my life with animals but all ended well for Roy at least and also one of his friends, Charlie, paid for by an amazing supporter of The Beet Retreat, a woman from NSW who went vegan after a stay here, Val.
Roy and Charlie live happily and safely with 15 other steers at Gunyah now and Val and I donate every month for their ongoing care and I visit them when I can. I have to admit I miss seeing them a few times a week but know they are much happier in a herd. They are social animals and like the company of their own kind.
Roy may have recognised something within me like I did with him but in the end, all farmed animals are "Roy". They are all worthy and they all have their stories. It is just a tragedy that for billions of them there is no one to see them for who they are and ensure those stories are shared.
For every animal saved there are billions never recognised beyond a product. But times are slowly changing and it is animals like Roy with their own dynamic life force that connects us to the "who behind the what" on our plate and help us find a better way forward.
They are all Roy.
We can all make a difference just by choosing to eat delicious plant-based foods instead. It's never been easier to do so much for so many.
---
Jan.
How do we describe ourselves in words when we believe it is our actions that make the difference?
How do we capture the essence of who we think we are and what this thing is that we share with others when we are so close it?
Let me step outside myself for a moment and try and blend the what, the who and the why with the when and how for you.
Born in 1962, I grew up with a great love of animals and the natural world but with a mind that was mo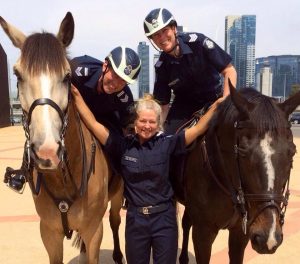 re inclined to accept the status quo than question it. My love of animals, particularly horses led me to a 33-year career in Victoria Police with the vast majority of that service being as a Trainer and Riding Instructor in the Mounted Branch.
In 2012, just two weeks after turning 50, I went vegan, the result of 12 months spent learning about the lives, and deaths, of our fellow sentient beings who suffered so terribly, so needlessly, at our human hands. 8 months later, in 2013, still recovering from a 2011 workplace back injury, I took extended leave and went backpacking, solo, around the world for a year, culminating in a 250km Ultra Marathon in the jungles and mountains of Costa Rica.
Those travels, that race was a turning point in my life… never having travelled solo to that extent before, never having run so far, it was not just a return to my previously active life but reminded me that we are capable of so much more than we tell ourselves we are. The times I have told myself that I am not good enough, that this thing before me is impossible/extreme/crazy/risk (Veganism was one of those!) have always been the first inkling that this thing is worth doing!
Upon returning to work and trying to find my feet in a world that no longer felt so black and white, I found that my growing social awareness and desire to do more and be more for others, led me to a moment in which it became obvious I could no longer continue to wear a uniform that I no longer felt authentic in nor did I want to enforce laws that I could now see as unjust.
Leaving a career, that in no small way was part of how I defined myself, was not a comfortable or smooth process but leave I did and after many months of believing that I had no "skills" in any area outside of those related to horse riding and training, I was surprised to find that the little Airbnb thing I had set up for a bit of extra income and a way of interacting with other travellers, emerged as a wonderful form of gentle advocacy as I shared my own healthy, vegan breakfast with these people who came to my home… Over these vibrant meals trust, rapport and connection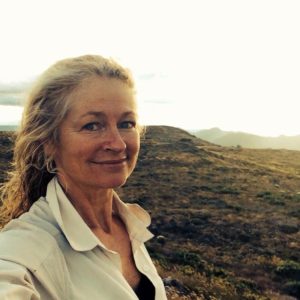 Over these vibrant meals trust, rapport and connection was built. Questions were asked and answered, other meals and resources asked for…
Slowly, as my confidence grew, a recognition dawned, that this life I was living was of interest to others and that it actually seemed to make a difference in the lives of others in a positive way. It helped them both in their own journey towards better physical and often emotional, health and it helped them connect the dots between ourselves, the animals we think of as worthy of compassion and respect, and the others who we don't really think of at all, the animals we eat and wear.
I shyly opened my door to guests just before Easter 2014. A Vegan B&B from its humble Air BnB beginnings. By the end of 2014, it was a registered business and The Beet Retreat was born, becoming the light, passion and purpose that I had been looking for.
And it had been right in front of me all the time but I'd never seen myself as having something to offer in this way, I could not see it until others showed me through their enthusiastic support and gratitude in being here.
The Beet Retreat has been slowly building ever since, with 100's of guests enjoying dinners, private and public cooking classes, guided hikes and soon, even House Concerts and other special presentations.
I love to write and will often speak publicly, if asked, about animal rights, plant-based health, and my life here and even about transformative life and ultra-endurance experiences.
The other animals here, for indeed, we are all animals, are as much the heart and soul of this place as I am. As my story helps connect, so too does theirs. For at the essence of our existence we are all one. We all belong, we all live, love, play, sleep, experience joy and also are capable of the experience of suffering, loss and grief. Our similarities far outweighing our differences.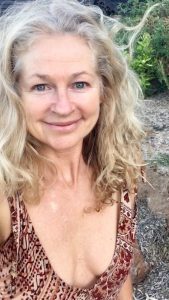 Going Vegan was a decision based on no longer wanting to contribute to the suffering of other beings for the things I came to learn were totally unnecessary in my life or the lives of any human being. The joy that it would bring me, the people I would meet, help, talk and laugh and become friends with I could never have imagined.
The joy that it would bring me, the people I would meet, help, talk and laugh and become friends with I could never have imagined.
Allowing ourselves to be vulnerable, to feel and to care for others are at the cornerstone of the most special part of our humanness. Empathy.
But from the outside looking in, when first beginning to question long-held beliefs and habits and examine the motivations of those who have indeed encouraged us to buy, consume and act in certain ways, the world can look a rather different place, we often take time to find our balance. But it's only by being willing to loosen our grip on what "has always been" that we allow the transformative magic happens.
But it's only by being willing to loosen our grip on what "has always been" that we allow the transformative magic happens. It's only by looking beyond our own often limited perspective that we can see that every action does indeed have an equal and opposite reaction. That personal choice is not always as personal as we would like to think it is.
It's only by looking beyond our own often limited perspective that we can see that every action does indeed have an equal and opposite reaction. That personal choice is not always as personal as we would like to think it is.
I believe the most powerful and beautiful word in our language is Empathy.
If there is one word I feel could sum up this place, that I hope could describe my life going forward, my purpose, it is that.
Empathy.
---
The Beet Retreat