Is a 'Life Audit" a thing?
In 2014 I don't think my accountant thought opening a vegan business was a particularly smart move.  But 9 years on, though it's not 'secure' like a government job or comes close to matching my old wage, I still love it.  And I'm still keeping my head above water.  But the recent downturn in the economy got me worried.  And I know I'm not alone there.  And so the time came for a re-appraisal.
Biz had been pretty dead. Much quieter than normal for 3-4 months.  Sure, it has always been up and down, but this felt different. I had a lot of time to navel gaze (dangerous!), and TRAIN (bonus!).  There'd been enough fiscal stress to reflect on how I'm living and working.  I'm sure you may have been doing the same. Weighing up wants and needs.  What's worth fighting for and what's not.
Running a vegan business has a unique set of challenges. But what it comes down to is something that a non-vegan may not understand.  Success to an ethical vegan is not necessarily what it is to traditional business owners.
Success is having satisfied and happy customers and being able to pay the bills, sure. But as important, so is remaining true to our values and selves.  Are we contributing to something we see as important and needed?
In our 60's I think we also grow more conscious of the passage of time.  I know I have.  We generally don't want to waste what's left of it, hopefully a good 20-30 years or so. I thought deeply about what I felt I did well this past 12 months.  What I wanted to do more of.  What I could have gone better, and yeah, where I screwed up.
I didn't want it to become a pass or fail thing.  Hands up those who tend to be a wee bit hard on themselves.  But I thought writing down the good, the not-so, and the ugly could help me regain clarity and focus of what I'm doing and why.  Both within my niche vegan business… and in life.  And even in (the absence) of love.  At least of the partner variety :-D.
I guess this kind of pragmatic reassessment and appraisal is something we've all done.  I know I have numerous times.  But it had been a while. It was a blessing having clarity again, and renewed focus.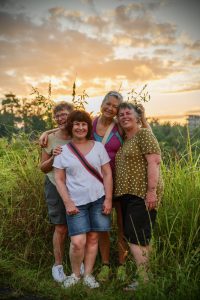 I hope to retain a well functioning mind and body.  And continue to contribute in some kind of meaningful way as I age.  I am well aware that poop can happen any time. Sure.  And even if we are lucky, there are some things one shouldn't put off, if we've the option.
Like doing what we love, yes. But maybe not digging a hole that's too deep to extract yourself from if things go south.
My goal this past decade has been to become kinder, wiser, more useful and interesting.  I still screw up plenty. I still struggle with heaps of things. But this is what it is to be human. While my personal report card will always read "could do better", I do like who I am.  I am more accepting of my fears and failings better than a few years ago. I'm sure it has something to do with going vegan. And doing the work I do here, not just the clocking over a half century.
I think many of us learn more humility and compassion with age. More enlightened souls, far earlier! We become aware of a whole bunch of things we were once oblivious to.  Like how myopic we have been.  And how much time/energy/money we wasted on nonsense.  Maybe also how neglectful or blasé we have been about our health and life and how our choices affect other beings and the planet.
A B&B, probably like all of tourism and hospitality, rides waves.  And sometimes there are none.  One look at my Facebook feed tells the story.  This winter, if you've been at all able to, you've jetted off for a European vacation.
If not, you've hunkered down at home with a hot chocy and i-view (not so bad really)
But jokes aside, I recognised I was starting to get a tad down about stuff.  After a couple of weeks of increasing periods of worry. I decide to come clean and talk about it.  And the first ones I disclosed to were my beloved Marvellously Midlife gals. From the Bali Retreat.  Yup, we are all still chatting on WhatsApp most days. 2 months on!  It made such a difference. And dammit, talking honestly with those you trust? I know it's important and I preach it.  But I wasn't doing it myself cos I'm the 'Ms Fix It' yeah?  I'm the happy, strong one.
We. All. Have. Our. Stuff. #facepalm
If I did something right this year it was getting out of my comfort zone and offering that retreat. The difference it has made to the girls lives already.  And the connection we have to each other has far exceeded our hopes and expectations. I'm bloody proud of that. But needed them to remind me that I 'did good'.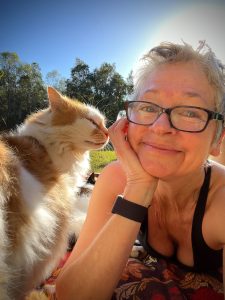 I found I really missed my guests. The chats, and laughs and getting to know and help them, if needed.  As someone who leans more to introvert than extrovert, this feeling of being a bit "lonely",  was unsettling.  Because 'lonely' is a rare bird in an introvert's life.
I think we can tend to retreat deeper into ourselves, in a detrimental way, when carrying the burden of worry alone.  And that was what I was doing.
But thanks to practising what I preach and talking it out with those who care, I can confidently say my 'Life Audit' is working great.  And my usual optimistic and "go get 'em tiger" attitude to life is back in place.  Because I know I'd fight tooth and nail to keep this vegan business I love because it matters and it grows me.
And the economic crunch?  'This too shall pass'.  
I learnt something this past year.  And friends who stayed recently, pointed it out again. Simply and GENUINELY giving a damn about the person or people in front of me, listening to them, is what sets this place apart, as a B&B and as a retreat. It was a lovely thing for them to remind me of.  Others have said it before too.  As someone who literally hosts people in her home it is the only way I've been able to continue loving what I do. My care of, and interest in, the good people before me, is genuine, despite my introverted inclinations.
In both biz and life feeling seen, heard and valued is so important.  That said, have I done that perfectly for all over the years?  No.  Sometimes, with some people, I have struggled to be the host I wanted to be.  Not everyone is a good fit for what we offer or for how much we can give of ourselves.  Some folks can be tricky.
We all want to be best kind of  'good people' we can be.  And to have them in our orbit. They brings so much JOY and value to our life. Good people who actually care, who mean what they say and say what they mean, who are thoughtful, considerate and kind and patient.  I hope I am that person. I have people in my world and as my guests who are those people.
But sometimes, like anyone, I'm just damn tired and I fail to live up to the standards I set for myself.  I get triggered.  I get stressed. That's why we need to see the cracks as they appear. And to be able to predict them.  To be able to say no.  To have that ability to slow down, step back, administer self care. Be it by an afternoon of solitude, a holiday away, some selective good company…or a trail run 😀
But anyhoo! Speaking of self care and solitude, I LOVE the spaces in between caring for guests but I've had way too long a one this winter.  I MISS you and doing what I LOVE to do here.  I have so much to give my guests and right now, no one to give it to.  
Maybe if you've read this far it is YOUR sign to examine what's most important to you too. For your health and happiness. Right now.  Maybe it could be a little getaway.  Or even a longer retreat stay, like the Adventure or Empower Retreats.
A vegan B&B isn't for everyone.   But for those who do come, there's a whole lot of 'beautiful' in spending time with a likeminded. And at a property like The Beet Retreat.
Pre or post your own Life Audit 😉
Jan xx